| | | | | | | | |
| --- | --- | --- | --- | --- | --- | --- | --- |
| Rinsey & Rinsey Cove | | | | | | | |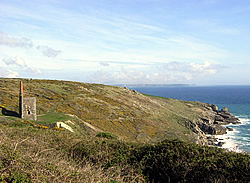 The spectacular landscape of Rinsey Cove between Porthleven and Praa Sands is a hidden treasure well worth seeing.

The cove is in the shadow of a former tin mine engine house, Wheal Prosper which was built in 1860, though the mine was worked earlier in the century producing an average of 860 tons per year between 1832 and 1849. It ceased production in 1865 but the engine house still stands which provides a dramatic backdrop to the ocean below.

The area is steeped in history with tales of smuggling and shipwrecks which forms part and parcel of Cornish charm and culture.

The steep winding footpath down to Rinsey Cove is well worth the trek though it is not for the feint-hearted. But the spectacular views which await you are well worth the effort. And whilst you are there give a thought for the unfortunate shipwreck victims over the centuries who have perished in such treacherous waters. Or the smugglers who hid contraband in the many caves carved into the coastline.


For all bookings - call (01326) 563198
Cornish Tin Mining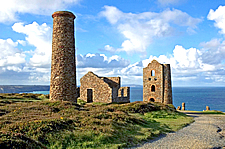 In the mid 18th Century, Cornwall was the global capital of Tin Mining boasting at one point, over 2000 working mines.

Use of tin was common throughout the industrial revolution but the mineral plummeted in value resulting in a catastrophic downturn in the industry.

For many years, tin has not been mined in Cornwall at all, but recently there has been news of a possible revival, with the potential prospect of South Crofty Mine near Camborne re–opening. This is due to the significant rise in tin prices which now makes the mines viable again and could be excellent news for the Cornish economy.


Contact Details:
Porthleven Harbour Cottages
Mrs Janice Benney (Proprietor)
Chy-an-Gwel, Torleven Road,
Porthleven, Helston,
Cornwall TR13 9HR


Tel: (01326) 563198
Mob: (07814) 662133
Mail: info@cornishhideaways.com