| | | | | | | | |
| --- | --- | --- | --- | --- | --- | --- | --- |
| Loe Pool & Loe Bar | | | | | | | |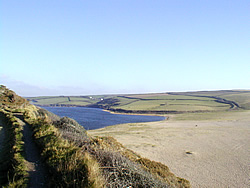 The Loe, also known as Loe Pool, is the largest natural freshwater lake in Cornwall. It is separated from the sea by the shingle bank of Loe Bar, situated midway between Porthleven and Gunwalloe. Both the Loe and Loe Bar are situated within the Penrose Estate, administered by the National Trust.

The Loe was originally the estuary of the River Cober which flows through the former port of Helston, two miles inland. The Bar is thought to have formed during the thirteenth century, cutting off Helston's access to the sea. To prevent flooding in parts of Helston, the Bar has occasionally been breached, a practice known locally as "cutting". However, it has always appeared to have naturally resealed itself.

The Loe is reputed to be the lake in which Sir Bedivere cast King Arthur's sword, Excalibur. Local superstition also warns that the Loe claims a victim every seven years, a reputation which is partially born out by the number of shipwrecks it has claimed over the centuries.

The Loe Bar can be accessed via a road to the east of Porthleven.


For all bookings - call (01326) 563198
Shipwrecks & Smuggling
The Loe Bar has claimed many ships over the centuries. In 1807, HMS Anson (named after Admiral George Anson) overturned on the bar with the loss of over 100 men who persished in the surf as they tried to get to the beach.

Smuggling is also a major part of Cornish history. As the coastline has a generous number of sheltered coves and inlets, smuggling was used as a way of supplementing families with poor incomes. Contraband came in a variety of forms including alchohol, silk and cotton, infact, anything of real value.





BOOKING ENQUIRIES


Contact Details:
Porthleven Harbour Cottages
Mrs Janice Benney (Proprietor)
Chy-an-Gwel, Torleven Road,
Porthleven, Helston,
Cornwall TR13 9HR


Tel: (01326) 563198
Mob: (07814) 662133
Mail: info@cornishhideaways.com